Visa Reaffirms Commitment to Advancing Pakistan's Digital Economy
Visa hosted an event bringing together start-up founders in Karachi, Pakistan to discuss and explore the fintech and start-up landscape.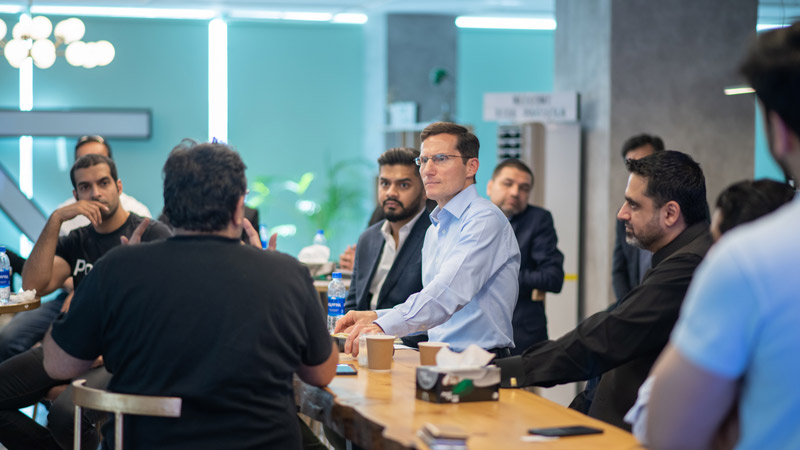 Visa hosted a gathering to welcome a select group of influential start-up founders in Pakistan, providing a platform to discuss and explore prominent prospects within the country's fintech and start-up landscape. The event saw in attendance Regional President for Central and Eastern Europe, Middle East, and Africa (CEMEA), Andrew Torre; Senior Vice President and Group Country Manager for North Africa, Levant, and Pakistan (NALP), Leila Serhan; and Country Manager for Pakistan, Umar S Khan reaffirming Visa's commitment to Pakistan's fintech and startup sector.
During the event, Pakistan's visionary start-up founders had the opportunity to showcase their innovative approaches in addressing commercial and customer-centric challenges. Attendees engaged in insightful discussions with Visa's leadership team regarding the opportunities and challenges presented by the evolving digital payments landscape in Pakistan. Start-ups in attendance included Chikoo, CreditBook, Dastgyr, Digikhata, Haball, Jazari, Kupay, MedzNMore, PostEx and Polly & Other Stories.
At the event, Andrew Torre announced that Visa's She's Next program, which supports women entrepreneurs and small business owners through grants, mentoring, and networking opportunities, will be launched in Pakistan this year.
Visa is proud to lead the conversation on how the fintech and startup community can help shape the future of money movement to expand access to underserved markets and regions. The company remains committed to supporting and collaborating with Pakistani innovators to transform payments for individuals and businesses alike.
The event built on Visa's multi-year commitment to digitally-enable 50 million small and micro businesses (SMBs) worldwide by the end of 2023, to support recovery from the pandemic. Thus far, Visa has enabled 41 million small and micro businesses worldwide.